Ο GreekLUG προσκαλεί όλους τους Εκπαιδευτικούς στην δεύτερη παρουσίαση
από μία σειρά παρουσιάσεων για Εκπαιδευτικούς.
Εισαγωγή στο Ελεύθερο Λογισμικό/Λογισμικό Ανοιχτού Κώδικα (ΕΛ/ΛΑΚ)
Σαββάτο 19/10/2013, στις 18:00 μ.μ.
Εγνατίας 96, Πυλαία - Δημοτικό Κέντρο Ελεύθερου Λογισμικού
GreekLUG invites all educators to this first introductory
series of presentations for teachers.
Introduction to Free Software and Open Source Software (FLOSS)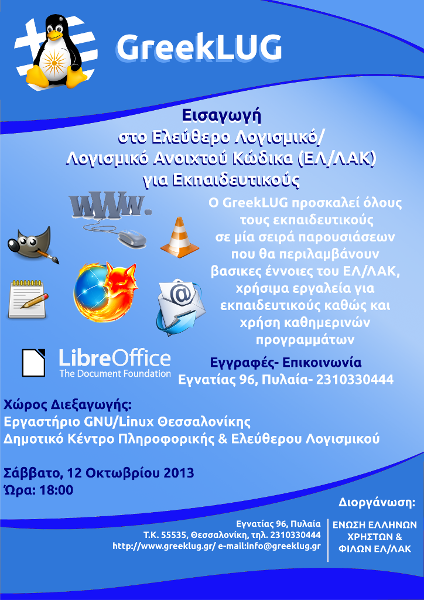 Saturday 12/10/2013, at 18:00 p.m.
96, Egnatias street, Pylea
Municipal Centre for FLOSS