GreekLUG invites you at the art exhibition "Extrospective" opening on Saturday 30th August 2014, at 20:00.
A Scultpure, Photography & Sound Exhibition under the title "Extrospective", with young artists,
taking place in the context of cultural events of the European Mediterranean University (E.M. Uni),
in collaboration with the Dept. of Italian Language and Literature of Aristotle's University of Thessaloniki,

You can find the resumes of all participating artists on the Aristotle's University of Thessaloniiki eclass platform.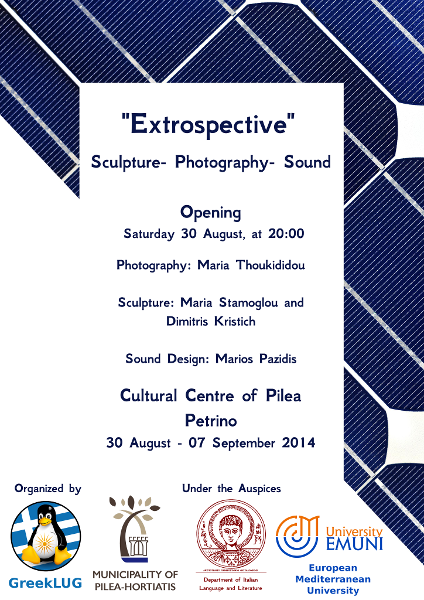 The exhibition is under the auspices of the Municipality of Pilea-Hortiatis, which kindly offered the venue in the Cultural Centre of Pilea ("Petrino"), where the works will be exhibited.

Opening: Saturday, 30/08/2014 at 20:00
Place of the event: Cultural Centre of Pilea ("Petrino"), 20 Politechniou street, Pilea
Information: Press comunique | Poster (in Greek) | Poster (in English)